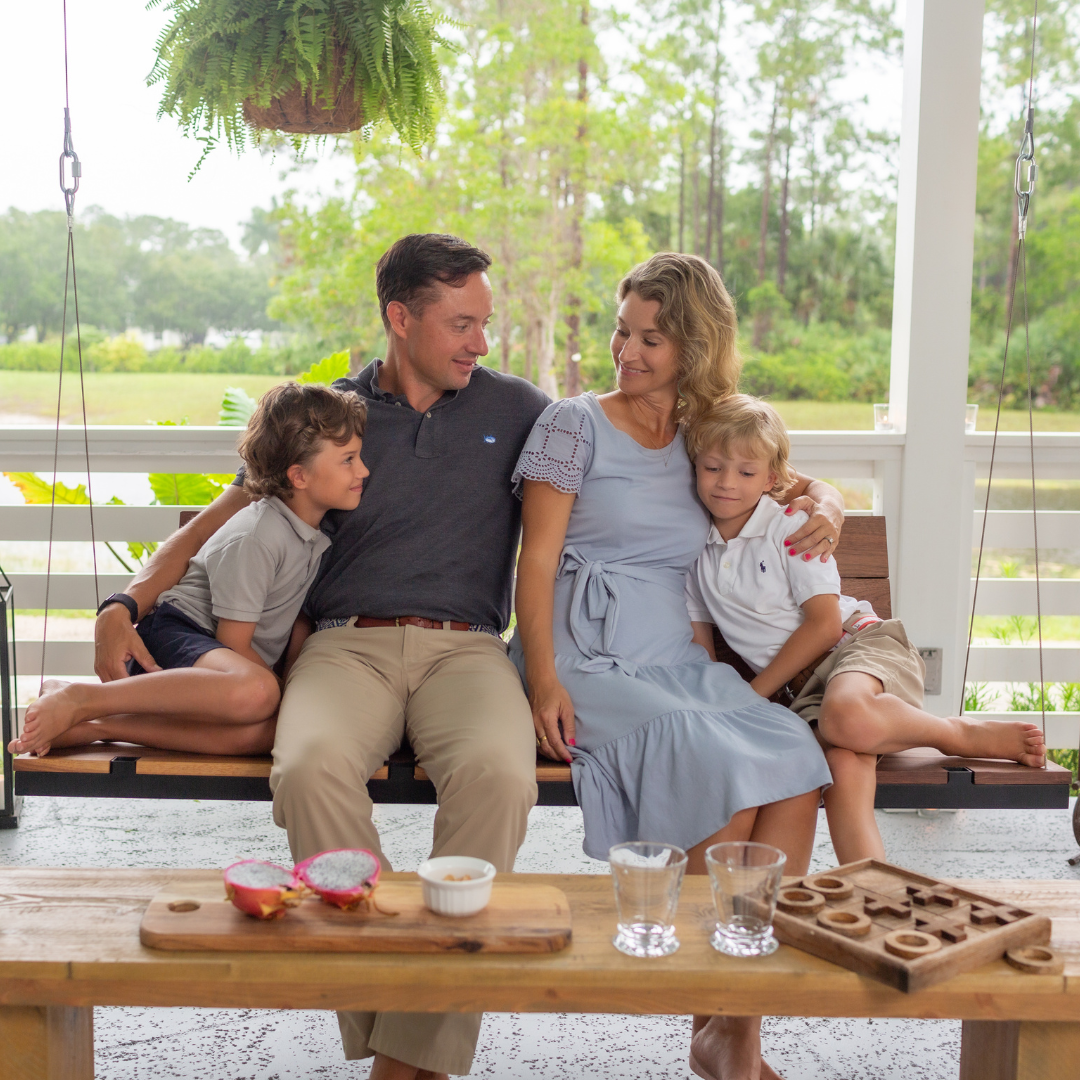 The Organic Swing
The Organic Swing is the world's most versatile porch swing. Designed to maximize relaxation, beauty and togetherness, the movable seatbacks respond to whatever is happening in your space. It's a focal point, a meeting place, a conversation starter. And with our high-quality, made-in-the-USA construction, the conversation will continue for years to come.
The Organic Swing frame is crafted from high quality steel and finished in a durable, outdoor grade zero VOC powder coat. The slatted bench deck and seatbacks are made from sustainably harvested cypress or walnut wood, exhibiting a natural beauty, remarkable strength, and resistance to weather. The Organic Swing is suspended from corrosion-resistant wire rope for a distinctively modern look and added strength.
The Organic Swing is made with architectural-quality materials and craftsmanship that will last a lifetime. Just like your most treasured relationships.
Modern Architectural Design
Featuring a sleek, minimalist design, the Organic Swing delivers a modern aesthetic unlike any other porch swing.
Unparalleled Craftsmanship
With weather-resistant cypress or walnut wood panels and a powder-coated steel frame, the Organic Swing is proudly made in America to last a lifetime.
Interchangeable Seatbacks
With modular, movable seatbacks, the swing can quickly and easily change to match the natural ebb and flow of your life at home.
Two beautiful finish options
Natural Cypress
Sustainably harvested cypress wood. Naturally light brown in color and water + insect + rot-resistant.
Two Beautiful Finish Options
Dark Walnut
Sustainably harvested walnut wood. Naturally dark brown in color and water + rot-resistant.
A Modern Architectural Statement Piece
Featuring a sleek and minimalist design, The Organic Swing delivers a modern aesthetic, unlike any other porch swing.
The porch swing that gets all the neighbors talking.
Our customers don't just like their Organic Swings—they love them. We'll let them tell you just how much they love their swings in their own words.
Top Quality product
I purchased this product for my new home and it couldnt be more perfect. The swing was made for the specific height of the ceiling of my porch.
The company couldn't have been more helpful, professional, and communicative
Love this swing!
Super creative and functional design. Excellent durability (we've had for 3+ years) did a large porch remodel and no question about keeping the swing as part of the design!
Excellent Design
We have been a customer since 2014 when we purchased this swing from the creator, Andy Hilton. We believed in your design, you provided excellent customer service & you definitely delivered! Everyone who uses this swing loves the flexibility & loves your work. It is now 2021 & we are still continuing to enjoy your creation. It has been a pleasure working with this company!
All my photos include us in them.. because if we see the swing, we just have to be ON the swing!
We have had our SWINGLAB swing about 4-5 years. My search for a porch swing that was MODERN ended when I found this website.
We leave it outside all summer and fall, and this swing has been a part of so many special moments, conversations and just quality time. Immediately your stress fades when you relax onto any porch swing- but, the fact that this one is so cool is just EXTRA. I am including photos but notice that during quarantine, I painted it white. It's my favorite place to hang.
Perfect porch swing
This swing was so cool we had to build a porch around it. We love this modern streamlined version of the traditional porch swing. The removable back is brilliant giving us options you can't get with a traditional swing
The swing is beautiful !!!
When I bought this swing, I was looking for a swing that is modern looking. This swing looks great, installed on my deck. And it is so light and easy to remove, whenever I want. I highly recommend it.
Beautiful Piece of Modern Art
We purchased the Swinglab swing a few years ago and it is one of a kind. We love the versatility of the swing not to mention the modern simple look. We had a pergola specially made for the swing and it looks great against all the greenery in our garden. We get so many compliments from our friends and family. It is the focal point of our garden.
Excellent swing
Perfect sized swing for my modern patio... Looks lightweight, very modular so everyone who comes customizes the backrest to their liking... Folks wonder how that thin metal wire can withstand 3 people's weight just fine... Highly recommended
Thank you
We love our SwingLab. It really pulls our front porch together, giving us the swing we always knew we wanted wiithout losing the modern style that's hard to find in hanging swings.
Nathan, owner at the time of our purchase, was absolutely helpful every step of the way, from guidance w/ measuring and selecting ceiling hardware to providing recommendations on our final design selections, I was pleased with our process. I remember the timeframe from purchasing to shipping took longer than we initially expected but it didn't hinder our overall experience in any way - everything arrived in great condition and SwingLab was timely with responding to any questions we had (wax finish, frequency of treating the bench post-purchase, etc)
Great Swing!
We love the swing! Modern looking but very comfortable. Exactly what we were looking for, for our house. Came packaged nicely and quickly. Thank you!
FAQs
Still need help? Please contact us. We're here to support you.
Every Organic Swing is handcrafted in the USA and ships in 1-2 business days.
At this time, we ship to the United States and Canada. Shipping is 100% free in the continental U.S.A. with a typical transit time of 3-7 days (calculated after production time). We  offer shipping to Canada for $149 per swing with transit times ranging from 7-21 days. We also ship to Alaska and Hawaii for $199 per swing with a typical transit time of 7-14 days. Click here to learn more about our shipping policy.
Yes! We don't use fake, cheap, engineered products pretending to be wood.  Our swings are made with hard wearing cypress wood, cut from a real cypress tree.
We recommend professional installation, mounting the swing from two reinforced points 60 7/8" apart.  The cable and chain extensions included with the swing allow for installation in most common swing applications, including porches, ceilings, swing stands, and more.
We recommend periodically applying an oil-based sealer with UV protection to the wood, as wood will naturally fade and dry when exposed to the sun.  We also recommend scuffing the wood with 220 grit sandpaper before wiping on the new finish.
Yes!  Please contact us for wholesale purchase inquiries.  We offer a variety of wholesale purchase options.